Interest and anticipation are building for the Free State Rugby commemorative book, Cheetahland: 125 Jaar se Lief en Leed, now going into production for publication in mid-2021. As supporters place their orders for the thoroughly researched book, they asked some questions which we are happy to answer.
Who are the publishers and author?
The book was written by Frikkie van Rensburg, former sports editor of Volksblad, and published and financed by Free State Cheetahs (Pty) Ltd. Frikkie and Herman le Roux were also the authors of the now unobtainable centenary book about Free State rugby which was published in 1995 and sold out in no time.
How much will the book cost?
The price will mainly be determined by the number of orders. A print run of, for example, 1 000 will be cheaper per book than a print run of 500. Based on the current interest and orders, it seems likely that the 600-page book would cost about R400 plus postage.
What type of information does the book contain?
It contains the comprehensive history of Free State and Cheetah rugby since the inception of the Free State Rugby Union on 27 March 1895. If you want to know the result of a particular match, you will find it in the book. Likewise, the names and statistics of each of the 1 611 players who represented the Free State and the Cheetahs over the years; individual and team records; brothers and family members who represented the union; Free Staters who earned Springbok colours; Free Staters who were selected for national teams; as well as a delightful collection of interesting anecdotes.
Are there any pictures in the book?
The book is richly illustrated with action photographs, team photographs and other pictures. One of the biggest challenges is, in fact, to select the best pictures from the vast collection in the union's archives.
I would very much like a book signed by the author as I have a lot of admiration for Frikkie van Rensburg's ability to gather statistics and keep them updated.
It will be Frikkie's pleasure to sign books on request.
Will the book also be published in English?
The budget does not allow us to print the book in both languages. The plan is, however, to make an electronic version available in English. Should the demand be high enough, we will consider a printed version in English.
Where can I order a copy?
You can e-mail your name, the number of books you want to order and your contact details to media@fsrugby.co.za.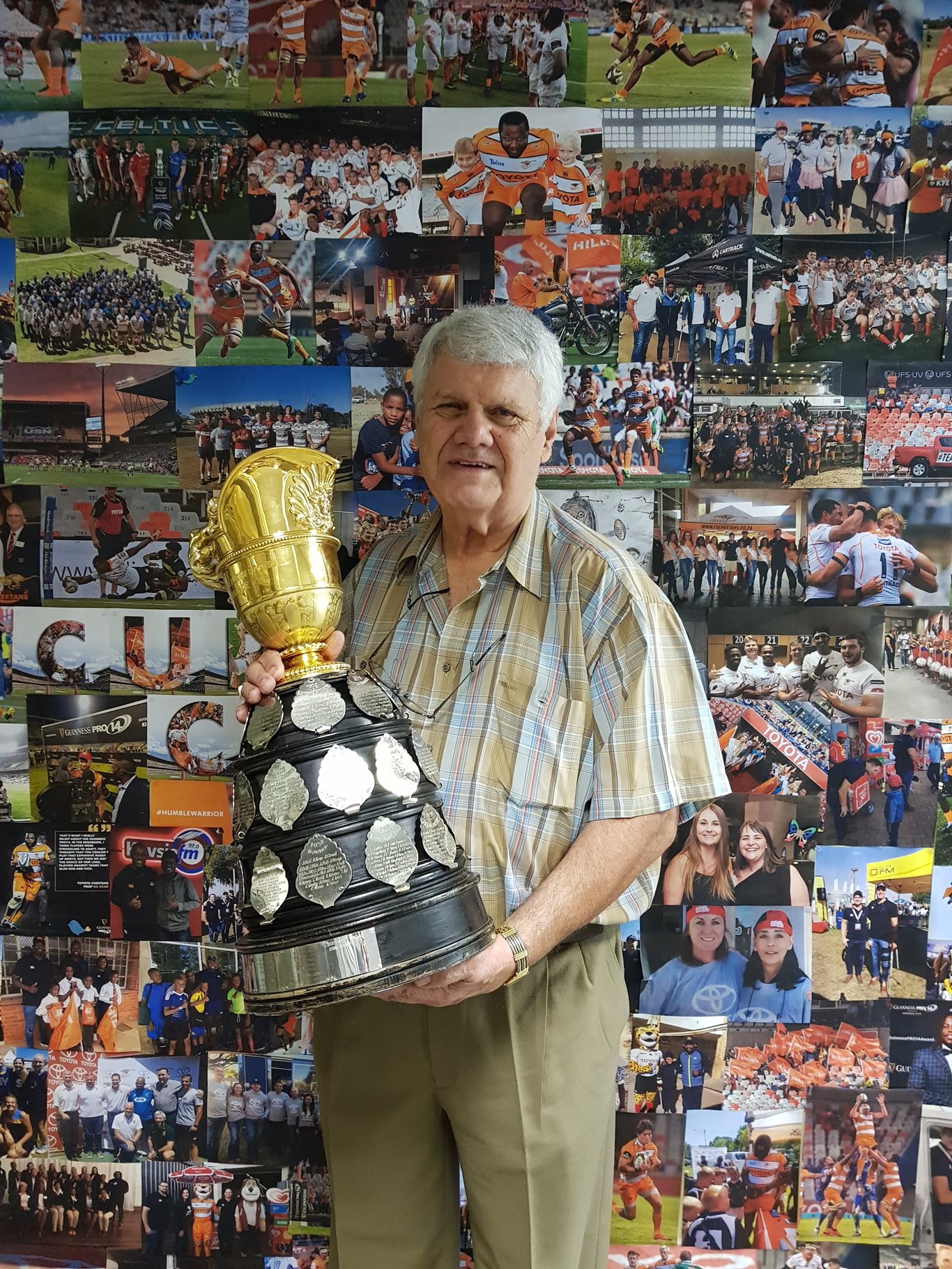 Belangstelling en afwagting laai op vir die Vrystaat Rugby-gedenkboek, Cheetahland: 125 Jaar se Lief en Leed, wat nou in produksie is vir publikasie in die middel van 2021. Soos ondersteuners hul bestellings plaas vir hierdie puik nagevorsde boek, het hulle die volgende vrae gevra waarop ons graag antwoord:
Wie is die skrywer en wie publiseer die boek?
Die boek is geskryf deur Frikkie van Rensburg, gewese sportredakteur van Volksblad, en word gepubliseer en gefinansier deur Vrystaat Cheetahs (Edms) Bpk. Frikkie was ook saam met Herman le Roux die skrywer van die eeufeesboek oor Vrystaat-rugby wat in 1995 verskyn het, blitsvinnig uitverkoop het en nou onverkrygbaar is.
Hoeveel gaan die boek kos?
Die prys sal grootliks bepaal word deur die getal bestellings: 'n oplaag van 1 000 boeke sal byvoorheeld goedkoper per eksemplaar wees as 'n oplaag van 500. Gegrond op die belangstelling en huidige bestellings, lyk dit of die 600-bladsy boek sowat R400 (plus posgeld) sal kos.
Watter soort inligting bevat die boek?
Die boek bevat die volledige geskiedenis van Vrystaat- en Cheetahrugby sedert die stigting van die Vrystaatse Rugby-unie op 27 Maart 1895. As jy wonder wat die uitslag van 'n bepaalde wedstryd was, sal jy dit in die boek kry. So ook die name en statistieke van elk van die 1 611 spelers wat die Vrystaat en die Cheetahs deur die jare verteenwoordig het; individuele en spanrekords; broers en familielede wat die unie verteenwoordig het; Vrystaters wat Springbokkleure verwerf het; Vrystaters wat vir nasionale spanne uitgedraf het; en 'n heerlike versameling interessante staaltjies.
Is daar enige foto's in die boek?
Die boek is gepak met aksie-, span- en ander foto's. Een van die grootste uitdagings is trouens om die beste foto's uit die puik versameling in die unie se argiewe te selekteer.
Ek sal graag Frikkie van Rensburg se handtekening in my boek wil hê aangesien ek die wêreld se respek het vir die statistieke wat hy oor soveel jare nagevors, versamel en op datum gehou het. Frikkie sal maar te graag boeke op versoek teken.
Word die boek ook in Engels gedruk?
Die begroting laat ons tans nie toe om die boek ook in Engels te druk nie. Die plan is egter om weldra 'n elektroniese weergawe in Engels beskikbaar te stel. Indien die vraag groot genoeg is, sal ons dit oorweeg om ook 'n Engelse weergawe in boekvorm uit te gee.
Waar kan ek 'n eksemplaar bestel?
Stuur asseblief jou naam, die getal boeke wat jy wil bestel en jou kontakbesonderhede per epos aan: media@fsrugby.co.za.