The Free State Rugby Union was established in 1895 and since its inception has carved deep footprints in the landscape of South African rugby. Known for its unique brand of running rugby, the Cheetahs have grown on the hearts of all South African rugby lovers and rugby fans abroad. The Toyota Cheetahs are renowned for being everybody's "second favourite team" and this is reflected in the team's viewership numbers and the growth in support base that the team has experienced over the past few years.
Over recent years the Toyota Free State Cheetahs have become the domestic champions of South African rugby by winning the Currie Cup (South African Domestic Championship) on five occasions over the past 17 years.
Vision of the Free State Cheetahs
We excel in a profitable organisation that is excited by playing a winning brand of rugby, loved and respected by all.
Mission
Our core business is to develop winning teams that will ensure that our supporters, sponsors and the broad community respect our endeavours. We strive to adhere to the philosophy of Bill Walsh – "if we do all the right things to precision, the score will take care of itself"
We commit to
Manage rugby in a professional manner on all levels
Delight and entertain our loyal supporters through a total rugby experience
Respect and grow the legacy and heritage of the Cheetah brand
Optimize our assets and finance
The Cheetah Way
Passionate – A rugby family that is passionate about the Cheetahs and give more than is expected
Professional – A the Cheetahs professional conduct is embraced by every staff member in every department
Performance – We perform optimally on and off the field
Humility – Knowing what meekness is not weakness
Accountability – Ownership for our business and rugby is visible in all our actions
Innovative – A contemporary approach to business and rugby
Integrity – Impeccable and ethical conduct in relationships
Owners and Directors


Free State Rugby consists of the Free State Rugby Union and the Toyota Free State Cheetahs (Pty) Ltd.


The Union looks after amateur rugby in schools, clubs, women's rugby, referees and other associations.


The Cheetahs is a registered company and professional franchise in which the Union holds 75.5% of the shares and SuperSport 24.5%. The board consists of six Union-appointed, four SuperSport-appointed and two independent directors. There is a strong focus on sound corporate governance under the watchful eye of the independent Audit and Risk Committee made up of external financial and business experts.


Free State Ruby is accountable to SARU with several checks and balances.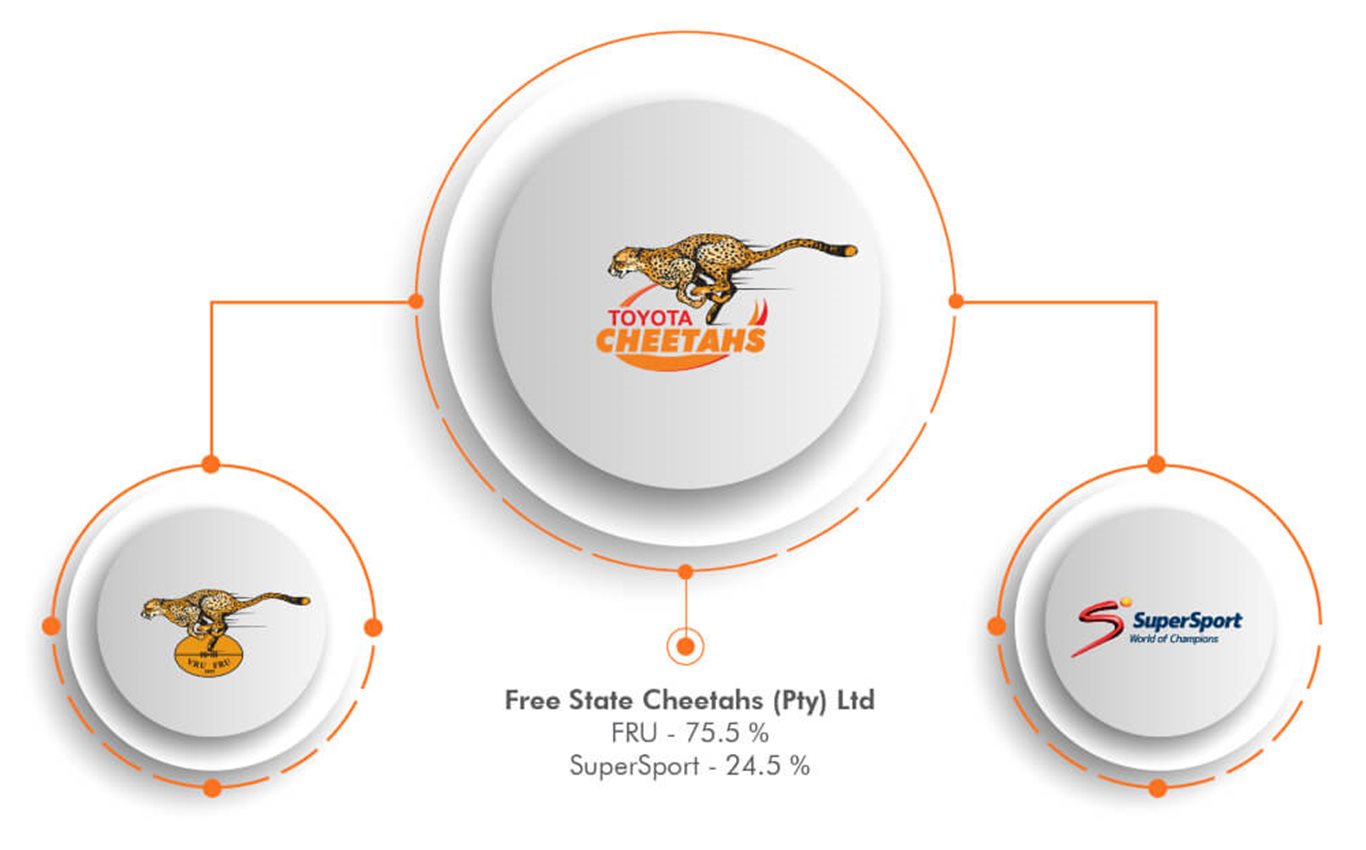 Free State Rugby Union: Union Council
| | |
| --- | --- |
| President | Jerry Segwaba |
| Deputy President | Charlie May |
| Deputy President | Lt Col Coerraad Klopper |
| Coaches Association | Hennie Coetzee |
| Collegians | Francois Retief |
| Crusaders | Cameron Malan |
| High Schools Association | Roelf Meyer |
| Primary Schools Association | Fanie van Rooyen |
| Old Grey's | Jan-Hendrik Cronje |
| Free State Sub-Union | Jan Schmidt |
| Free State Sub-Union | Bruce Samson |
| Police | Ronnie Bester |
| Mangaung | Thembela Sibizo |
| Referees Association | Shawn Kortje |
| Steyners | Willie Pretorius |
| Central University of Technology | Lou Nieuwoudt |
| Free State University | Marius v Rensburg |
| Women's Association | Me Pearl Lebusho |
| Bloemfontein Defence Force | Pieter de Necker |
| Lifelong Member | Bert Sorour |
| Lifelong Member | Prof Basie Verster |
| Managing Director: Free State Cheetahs (Pty) Ltd | Harold Verster |
| Manager: Amateur Rugby | Selvyn Colby |
Free State Rugby Union: Executive Committee
Jerry Segwaba, Coenraad Klopper, Charlie May, Pearl Lebusho, Selvyn Colby, Harold Verster, Francois Retief, Thembela Sibizo,
Fanie van Rooyen, Jan-Hendrik Cronje.
Members of the Executive Committee are elected by the Union Council
Free State Rugby Union: Finance Committee
Francois Retief (Chairman), Thembela Sibizo, Karien Potgieter
Free State Rugby Union: Disciplinary Committee
Charles Dell (Lovius Block, Convenor), Adv. Anton Roux (Advocate Chambers), Adv. Jerry Morabe,
Herklaas Venter (Lovius Block), Adrie Hechter (Adrie Hechter Attorneys), Louis Radley (Peyper & Sesele)
Free State Cheetahs (Pty) Ltd
Free State Cheetahs Board of Directors
Ryno Opperman (Chairman), Justine Smith (secretary), Harold Verster, Jerry Segwaba, Coenraad Klopper, Charlie May, Marius van Rensburg, Graham Abrahams, Mohammed Essack; Gideon Khobane, Marc Jury, Lou Niewoudt and Mzamo Ramoipone. On invitation: Gerhard Steyn, Karien Potgieter
Free State Cheetahs Management and Finance Committee
Ryno Opperman (Chairman), Justine Smith (secretary), Harold Verster, Jerry Segwaba, Coenraad Klopper, Charlie May, Marius van Rensburg, Hawies Fourie
On invitation: Karien Potgieter, Gerhard Steyn
Free State Rugby Audit, Risk and Remuneration Committee (Union & (Pty.) Ltd.)
Prof. Arrie Schoonwinkel (Chairman), Justine Smith (secretary), Anton Botha, Coenraad Klopper, Kobus Laubscher, Jerry Segwaba, Lou Niewoudt. On Invitation: Harold Verster, Riaan Enslin, Gerhard Steyn, Connie Hertzog, Karien Potgieter
Free State Cheetahs Top Management
Harold Verster (Chairman), Justine Smith (Secretary), Hawies Fourie, Karien Potgieter, Piet de Necker, Randy September, Kobus le Roux, Elza Ferreira, Selvyn Colby, MJ Smith
Free State Cheetahs Transformation Committee
Jerry Segwaba (Chairman), Justine Smith (secretary), Harold Verster, MJ Smith